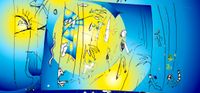 About Pau Pua & the Watering Hole
Pau Pua and his grandfather are on a great journey—they are traveling through the enchanted forest to a Spirit Tree Gathering. Fast asleep under a Great Tree, Pau Pua has many visitors in the nighttime: spirit-animals speak for those who can no longer come to the Watering Hole, and for those yet to appear. As morning dawns, Pau Pua brims with a magical light from within himself, and embarks on his life quest: to keep World Earth a sacred place for all life.
Pau Pua & the Watering Hole is a heartwarming and inspirational tale for people of all cultures & ages.
Reviews:1.
"I enjoyed reading Pua and the Watering Hole immensely. As a librarian and purchaser of children's books I was delighted by the multicultural aspect of the tale and the underlying message of caring for the environment. It is an adventurous quest that appeals to children with wonderful illustrations that are both colorful and eye-catching. I love the warm family moments in the story between Pau Pua and his grandparents. The use of hidden animals are also sure to appeal to children and adults alike. Highly recommended".     ~Nicole Overbeck, Wautoma Public Library, Director
2.
I offer my congratulations for an exciting, important, and beautiful vision brought to reality. Your work will be the catalyst for young people to explore their own spirituality through art and community, and will inspire them towards mindfulness of their surroundings, as well as care for Mother Earth.      ~ Renée Layberry, Freelance Editor
3.
"Pau Pua and the Watering Hole is...an intelligent, joyful, inspirational tale that I will read over and over again to my grand-kids...a marvelous journey and dream time adventure. It is not only fun reading but also full of the 'magic' and beauty of the 'real' world".      ~Gary Garriott, PhD.
4.
October 28, 2013
Format: Paperback
By A. Schmidt:

As I sat in a sunny kitchen, listening to Karen Harvey read this book aloud to friends and looking at the illustrations she'd created for the joint effort, I felt the hot sand beneath my feet and heard the words spoken by the grandparents as if I were physically in the world created there.

Harvey finished the text and created stunning illustrations for this story of a young boy who has been hurt inside. She took the story begun by her now past collaborator and brought it to publication. In doing so she seamlessly joined Wolford's writing with her own and produced illustrations that take the reader and listener into a world of nature in all its beauty.

What has injured the boy inside? Where does the story take place? It hardly matters. Each reader will create their own possibilities. The story is bigger than any one way a child can be hurt, or any one location on this watery planet. The gentle rhythm of the text carries you along on the tale of how a boy becomes a story-teller, an oral historian, a documentarian of nature, especially water's place there.

It bears many readings, a book that brings adults and children together in their imaginations, and in reality, if they read it together. I can hardly wait to share this experience with my granddaughter and other imaginative children.

In the long run, Harvey says, she makes the story a launching pad for readers and artists to make their own version, their own tale. The details of how she will do this indicate she's devised a new way for young people to interact with literature. Kudos to Karen Harvey for bringing this timeless tale to the public, and for giving it wings to travel on.
 
5. By
Mary Jones
on February 3, 2014
Format: Hardcover
My 5 year old granddaughter adores the illustrations and the relationships little Pau Pua has with his Grandparents especially his Granddad. The text is advanced for her but she greatly enjoys us to read it to her and is learning the native teachings re: our earth and the importance of its' ecosystems to all life. The animal characters are lovely. The Hard Cover pricey but I thought it was worth it simply because I still prefer a bounded book that can be passed down the generations.

Quite unique and an artistic investment overall!

This is one of my top ten favorite children's books to read to the kids (in classroom or at home) and I have read tons over my 30 years of parenting & step parenting, my 7 years of grand parenting and my 12 years of substitute teaching and literacy volunteer work.